2018 is our 10th anniversary!
The big event is on Saturday, 13 October 2018 at Geneseo City Park. We will be starting at 10AM.
There will be presentations on pet related topics, kids games, vendors, and pet contests.
The 1 mile walk (with or without your dog) will start at 11AM. Follow this link to see the route.
Go to https://shop.henrycountyhumanesociety.com/ to register for the 1 mile walk, or to order T-Shirts. Would you like to help out? Volunteers are always welcome! Please fill out the sign up form, and we will get back to you.
---
Here are the categories for the Pet Contest:
Best Costume

Best Dog & Owner Costume Duo

Youngest Puppy

Smallest Dog

Largest Dog

Best Talking Dog

Longest Ears

Best Follower of Commands

Best Trick

Loudest Support

Most Uniquely Marked Coat


Most Lookalike Dog & Owner
---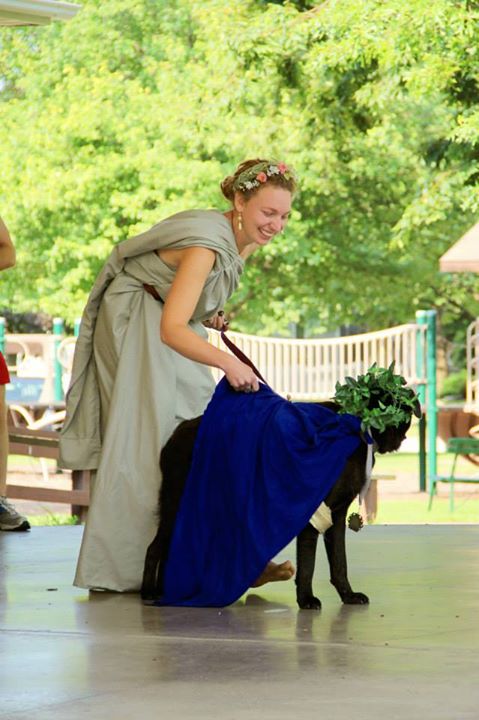 The following is the schedule of events for the Tenth Anniversary Bark In The Park Event. Note that the times listed below are our best estimate: the final event may be tweaked as we fine tune the schedule.
9:30AM->10:30AM
Registration & Packet/T-Shirt Pick Up
10:00AM
National Anthem
Emcee Introduction
10:15AM
Status Of The New Shelter, Karen Russell, HCHS President
The new shelter is much more roomy than our previous location, and we are looking forward to telling you all about it.
10:30AM
Speaker: National Night Out Dog Walker Watch, Sargent Chavez Of Geneseo Police
This is a program which is aimed to enhance the partnership between police and community while walking your dog.
10:45AM
Speaker: What Is A Therapy Dog And What Do They Do?, Angie Hall Of QC CAN
You have probably heard of service dogs, but therapy dogs (and their human partners) are something different. And something special.
11:00AM
One Mile Walk (With Or Without Dog)
11:45AM
Fun Activities With Your Dog/Getting AKC Titles, Alexis Weber
12:00PM
Meet Sonja Benavidez & Amber (her Cardigan Welsh Corgi). They won the American Kennel Club (AKC) Exemplary Companion Dog award for 2017
12:15PM
Pet Contest
Other Activities: